Kit
I own two Sony cameras: the F55 (big) and the Fs5 (small).
My lighting package includes 3 x LED bi-colour 1x1s, Dedos, Divalite, HMI softbox, etc.
Equipment is PAT tested.
---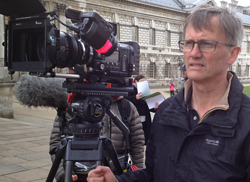 Sony's 35mm sensor F55 camera records multiple resolutions/codecs, from 50mbps 422 HD up to 16 bit 4k linear raw; it has 14 stops of dynamic range and records high-speed to 240fps. It has a global shutter (no skew or flash-band), ideal for green-screen compositing.
F55 Lenses
Standard Zoom: Canon CN7 17-120mm T2.95
Wide-Angle Zoom: G.L. Optics 11-16mm T2.8
3 x Canon T1.5 Cine Primes: 24mm, 50mm, 85mm
Canon 100mm Macro f2.8L
Media
SxS Pro+ Cards: 1 x 128gb and 2 x 64gb. (Non-raw 2k/4k internal recording, speeds to 180fps).
SxS Card Reader: Sony SABC-US20 (USB 3).
DIT software for XDCAM HD
.
For raw and 240fps I have the AXS-R5 recorder, 2 x AXS-512S24 512gb cards, and card reader (USB3).
DIT software for raw
.
Mattebox and Follow Focus
Chrosziel 16:9, with filter kit (pola, 1/4BPM, optical flat, ND grads). Arri MFF-2 with whip and speed crank.
Tripod
Sachtler 20 with 3-stage legs + short legs.
Monitors
Sony 7" PVM740 with batteries and Portabrace bag
TVlogic VFM-058W full HD on-camera monitor.
---
Lights
1 x Dedo 5ft Octodome softlight (400w HMI or 1kw tungsten lamps)
1 x Kino Flo Diva-Lite (flourescent softlight)
2 x Dedocolor Felloni 1x1 bicolour LED panels (TLCI = 97)
1 x Fomex FL-600 1x1 bicolour flexible LED light (TLCI = 98)
3 x 150w Dedolights with gobo projector
1 x Photoflex 1mx1m softlight 1kw tungsten
1 x 300w Arri tungsten fresnel
2 x Arri 800w redheads
1 x LED battery on-camera light
1 x Lastolite Chromakey Greenscreen 1.8 x 2.7 metres ( = 5ft 11 in x 8ft 10 in)
Reflectors, diffusers, magic arm.
---
Vehicle
Renault Espace
---
My second unit / b-camera is Sony's Fs5. It shoots HD (10-bit 422) or UHD-4k (8bit 420) onto a large sensor with XLR audio, in a very compact form. Records to XAVC-L. Slow-mo: 240fps in full HD.
Run-and-gun, in-car, docs, gimbal. For gimbal work I use the Ronin-M.
Sony A7S
I also have an A7S stills/video camera.
Fs5/A7S Lenses
Sony 18-105mm f4 zoom (E-mount)
Canon 24-70mm f2.8L
Canon 70-200mm f2.8L IS II
Canon 100mm Macro f2.8L IS
3 x Canon T1.5 Cine Primes: 24mm, 50mm, 85mm
Sigma 50mm f/1.4 ART
Tokina 11-16mm F/2.8
Fs5/A7S Slider
3ft motorised Kessler CineSlider for tracking shots.
---
View
samples of my work
, or download
my CV
.